While Emirates's new #FlyBetter ad may have drawn the eyes of many online, but once upon a time, there was another ad which is gained just as much attraction. It too happened to feature a Nicole; the Oscar-winning Australian actress Nicole Kidman.
In 2015, Etihad released an ad campaign for their airline called Flying Reimagined in which they revealed Nicole Kidman as their brand ambassador. The ad featured her in fleet A380 showcasing its luxuries. This ad was directed by Anthony Atanasio and Valerie Martinez.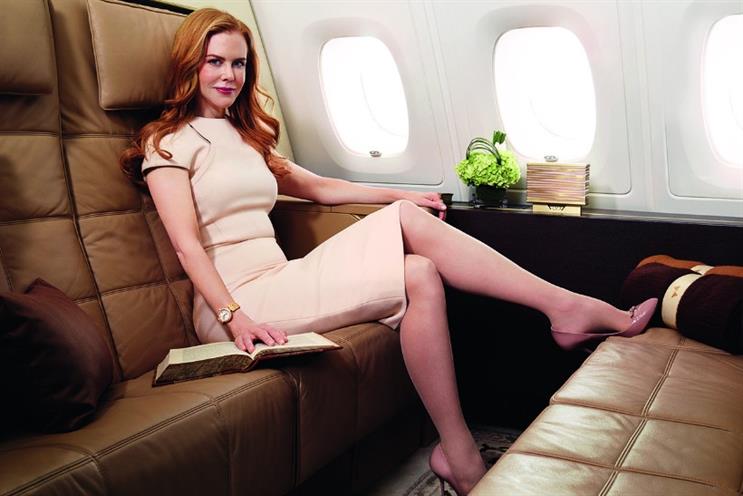 For those who can't remember the ad and its polished advertising, what follows is a description of both. The charm of the ad lies in its excellent cinematography, narration and a beautiful celebrity.
This ad had 2 elements: Nicole's soft narration and charming visuals. Both of these together made a subtle yet magnetizing ad.
While the entire ad brims with luxury; the first 30 seconds of the ad set it up well with Nicole's narration and the visuals of a utopian society. This is on par with Etihad in the fact that; the first-class carriage: "The Residence" is an exclusive 3-room apartment that comes with a shower, a butler and a double bed in A380. This is would only available for the rich and well-to-do as it costs a whopping $20,000 per flight.
Of course, the utopian world wasn't the only perfection in the ad. Etihad made sure that their airline; which was the marketing subject was also shown as the very best. The shiny and neatly placed cutlery, the spotless uniforms of cabin crew standing in a perfectly straight line and the laser-assisted designing and trimming of suits alongside the words "They want to take things further" were all a subtle mark of Etihad's image.
The visuals of sugar morphing into the top view of a building and an artificial canopy akin to that within the aircraft all carry the message of perfectionism directed at a few seconds ago. Though this is where the narration and visuals start to part ways. The ad starts to fall apart in its connections but the videography saves it.
What follows is stunning visuals of food, champagne, an aeroplane apartment and its luxuries. Such images fuel the epicentres of imagination inside the viewer's heads. We are meant to connect the dots with the help of precedents.
The benefit of Nicole's involvement
The aviation industry is highly competitive since all airlines in reality have the same things to offer. This was accepted by Etihad's Chief Commercial Officer. Hence, it makes sense that they had to find some way to stand out from the rest. "…because their goal isn't to improve on what has been done before, but to totally reimagine it." This is the last line of narration and it establishes the aforementioned intention with it.
Nicole Kidman oozes class, intelligence and elegance. According to Etihad, she was also a safe and clean celebrity personality to work with. Etihad is known to be among the very best in the airline industry. For 6 years before this, they had bagged the prize of "Best Airline" at the World Travel Awards. Thus, it makes sense that Etihad would want to hire a global brand ambassador that aligns with its reputation among people.
Also, according to Etihad, getting Nicole on board would strengthen their relationship with Aussies. Aussies are known to be frequent travellers and naturally, their bias to Etihad because of Nicole would be beneficial.
Impactfulness of Flying Reimagined
Etihad's Chief Commercial Officer in 2015 claimed that their brand awareness had jumped from 63% to 73% in 2014 and that this particular ad campaign would make it higher even more.
Google's case study shows that Etihad Airways interest worldwide peaked. Thus, this ad campaign and Nicole Kidman's involvement did bring some major change to the company image.
Backlash and the unwanted fallout
Turns out, not everyone was impressed with this ad campaign. By writing an open letter to Nicole Kidman, representing the air hostesses; the president of the Association of Professional Flight Attendants (ApFA), Laura Glading alleged that Etihad and other UAE airlines were well-known for their discriminatory labour practices and deplorable treatment of female employees. Laura claimed that this was, on Nicole's part, an offensive move to make since she had made a public proclamation in support of females on Women's Day that year.
Etihad, of course, responded to the backlash in a corporative manner saying: "At Etihad Airways, we have become a global, award-winning employer because we value our employees and we treat them with dignity and respect".