Food and advertisements. Fast food advertisements are the first thought of the mind. A bright and colour saturated video of advertised food items. Sometimes, companies focus on the appeal of the food through: a) attractive individuals, b) preparation or c)appeal of consumption. One awed by the production, may salivate and become tempted to buy the food item.
Change in Marketing Strategy
Without any need or implication, food-based companies change ways to boost their image. This is also done to test new styles of marketing. The effectiveness of this strategy is dependent on the association between the company and the strategy used.
What is noteworthy about this indirect method of advertising is that; even food brands sometimes stray far away from their line. They deploy stranger yet newer ways for advertising. For example, Mc Donald's recently launched a walk-through billboard in London. The billboard gave away free Mc Flurries to anyone that passed by them between 11 am to 6:30 pm. In 2019, they made billboards for drivers in Norway and France. The billboards asked drivers to keep their "eyes on the fries". They had also released a print advertisement of a chair that looked like Mc Donald's fries and the Mc Cafe brew in different lighting.
Image Source: Adweek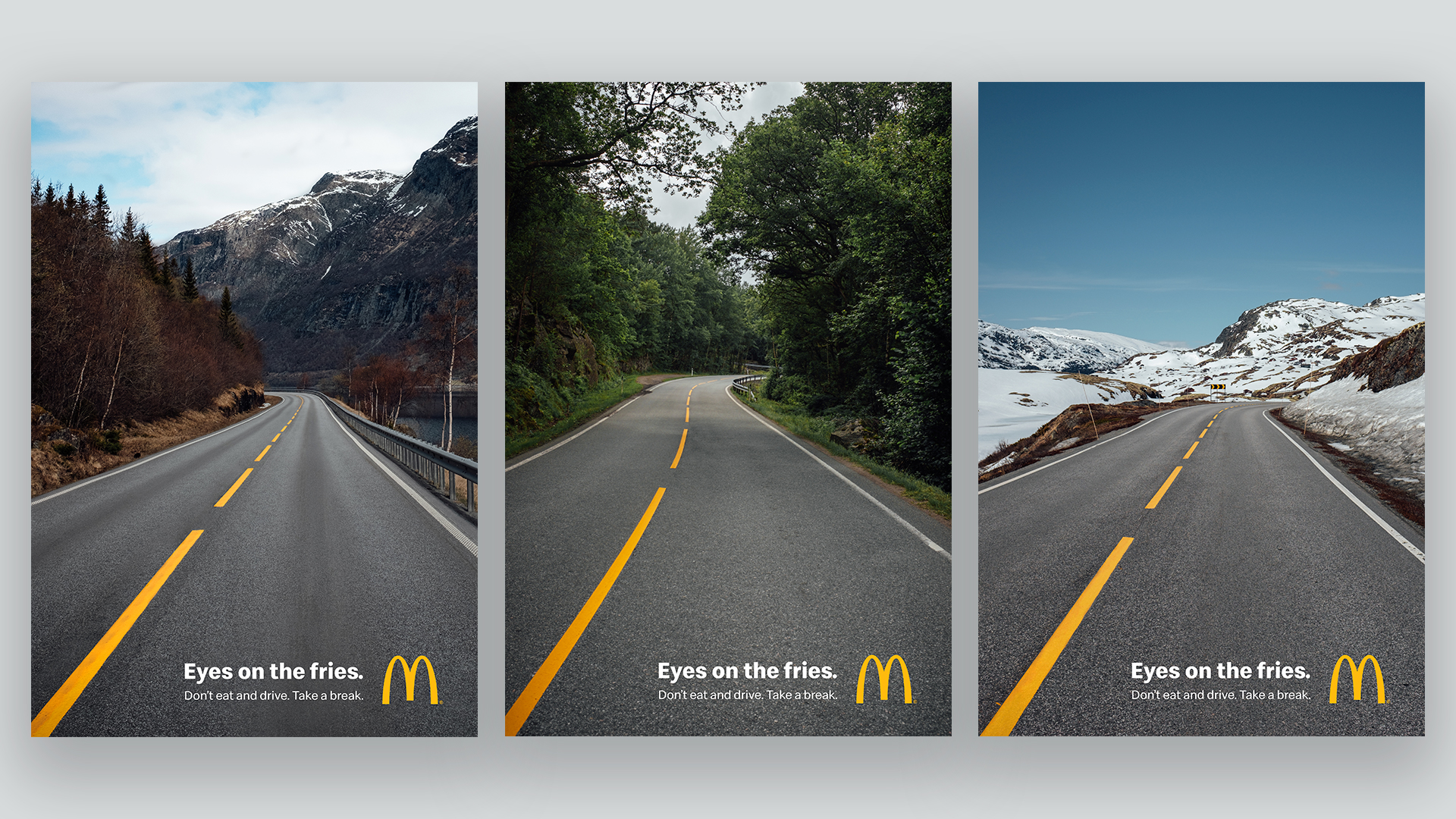 Joining the trend
It seems like newer methods of advertising can work and need not be constrained within the boundaries of fast food companies. With adequate revenue and intelligent planning, two unrelated things can be woven together to deliver a satisfactory advertisement. Here are a few more examples of such:
Kumbh Mela is one of the largest known human gatherings in the world. Millions attend the pilgrimage site to take a dip in the river Ganga. Any advertisement set here would be guaranteed to get the attention of at least a million people.
Lifebuoy came up with an interesting initiative to tackle the lack of hygiene around unwashed hands. They stamped all rotis that were provided in the eateries around Kumbh with the message "Lifebuoy se hath dhoya kya" (Did you wash your hands with Lifebuoy?). These rotis were the first rotis to be served to the customers of the eateries. Along with that, Lifebuoy kept their soaps in the washrooms of these eateries. The 'Roti Remindar' was to get a consumer's attention to hand-washing right when it was needed: before eating. This massive drive was critical since unwashed hands spread the germs of preventable diseases easily.
JetBlue, an American airline company came out with an edible advertisement in 2016. 5000 of these edible advertisements were inserted in 3rd Dec 2016 New York Post. This was an advertisement to spread the word about JetBlue's free, all-you-can-eat brand name snacks
The advertisement which was made of edible paper and written with edible ink stated that "All you can eat snack, starting with this ad".
SEGA Corporation is a Japanese multinational video game developer and publisher. To release an edible ad in Tokyo, SEGA took inspiration from popular Japanese style fish cake taiyaki. Taiyaki is a sweet street food that is usually filled with red bean paste or custard. But, it can be filled with chocolate, cheese or sweet potato too. SEGA made a premium version of this snack. They spent months developing their own mould. The fish cake needed to have SEGA's logo on the front and SEGA's motto:" Creation is life" printed on the back. These were to be filled with vanilla bean paste or red bean cream.
SEGA believed that their logo should be easy to digest and took their own words quite seriously. They spent half a year in the development of the iron mould for SEGA's very own logo in taiyaki.
Galaxy's ad called #ChoosePleasure was a 20-sec ad that meant to focus on the pleasures of life. They wanted to encourage their consumer base to choose things they would like to do.
In a related move, Galaxy made an edible billboard made up entirely of chocolate bars in London with the same message. The initiative run by Galaxy and Time Out Magazine provided 30 fun prizes like movie nights and picnic sets. This was their encouragement to people to seek out pleasures in life to live a more fulfilling life.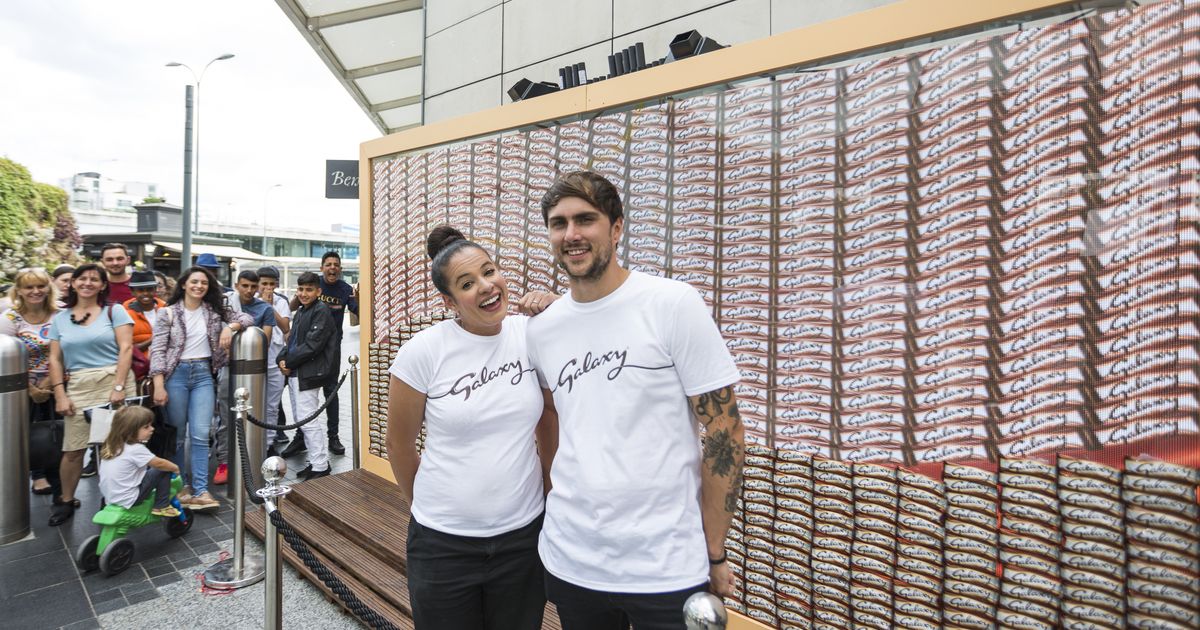 While introducing Fanta in the Middle East, Coca Cola took a new approach to introduce their audience to a new product. Instead of releasing the product straight into the shelves and advertising how cool the drink tastes; they introduced a print advertisement in 2013 instead. The print advertisement alongside a regular video advertisement for the consumers introduced how they had launched the edible print advertisements that tasted of Fanta. All they had to do was to tear a piece of the sheet and consume it. The rice paper advertisement had Fanta's taste infused in it. This innovative ad also included a Facebook app that allowed users to record "slurping" sounds and the retail displays diffused orange aromas. All of these were done to get the consumers excited about the new soda, Fanta.